Is a 2 person hot tub the best? Or, maybe a larger 6 person hot tub? Or who knows? maybe you want to throw a party, or you have a giant family. Maybe you need an 8 person hot tub. With all these size options, its hard to determine which hot tub size it the best.
If you are stuck in this dilemna, you are not alone. Size is the most common feature considered when consumers buy hot tubs. The problem is marketing. Hot tub dealers are not always realistic when they tell you how many people can fit in a spa. Often times a hot tub is marketed as a 4 or even 5 person when really only 3 people can fit in it comfortably. The same goes for bigger spas that are considered 6 person as you may easily be able to fit 7. It also depends on the size of the people. All of this has to be kept in mind before you buy, especially if you're a fist time buyer.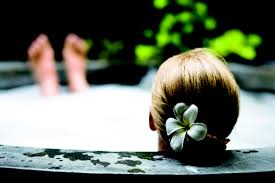 A very important statistic to consider is that 85% of all second time hot tub buyers elect a smaller size the second time around. This is due to many different factors, but the most common is that people imagine entertaining more than they actually do. If it's just the two of you, think about how often you actually do have friends over, and how often they all bring bathing suits. If you have kids, think about how often you will ALL be in the spa at the same time. Truth is, it doesn't happen often.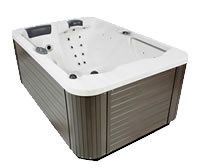 The advantages of going with a smaller size like a 2 person hot tub are obvious. Fewer gallons of water equals a smaller elctric bill. A smaller hot tub size frees up more room on your deck or patio. Smaller interior and exterior surface areas make for easier cleaing maintainenance. These are all reasons why, if possible, it's best to go with a smaller 3 person or2 person hot tub, but the most important of all is the cost. In general, it goes down with size. Save some money, save some room, and who knows, maybe get a little closer with your loved ones.
Read more about the advantages of 2 person hot tub spas...