Cleaning your hot tub: Cleaning your hot tub spa will help increase longevity, and make it look nice in the process. It doesn't take much work and it's well worth your time.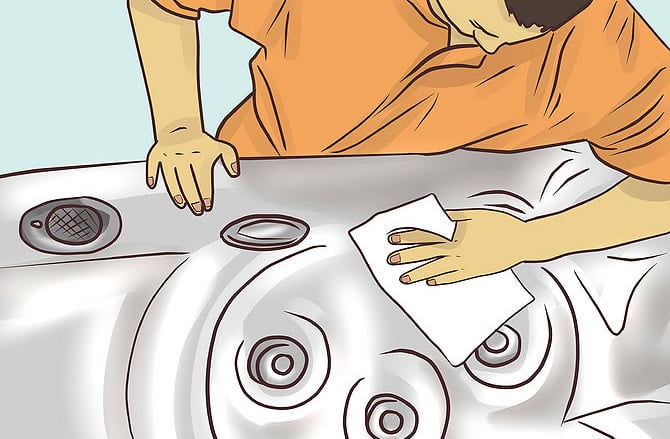 Directions for cleaning your hot tub:
The most important thing to keep in mind as a hot tub owner is maintaining proper chemical levels in your hot tub water. Be sure to purchase a water sampler and test regularly. Cleaner water means cleaner acrylic. Dirt and skum in water quickly sticks to hot tub acrylic. Eliminating dirt before it can accumulate is key.
Be sure to clean your hot tub filters regularly. This allows the filter to work more efficiently and can even increase the life of the filter.
A hot tub should be completely drained and cleaned about once every 3 months. Once your hot tub is drained, use a mild household cleaner to wipe the hot tub acrylic with a sponge or cloth, do not use any sort of abrasive cleaner or bleach. Also, do not use any sort of abrasive applicator as this can also damage the hot tub acrylic.
Be sure to completely rinse your hot tub of the cleaning chemicals before refilling. Cleaning chemicals can disrupt the delicate balance of hot tub chemicals used when your spa is filled.
If you want to clean the acrylic above the water line while the spa is filled, again be sure to use a product that does not disrupt the chemical balance of the water.
The exterior of most hot tubs are either made from wood or synthetic. If you have synthetic hot tub cabinets, they can be simply rinsed off with a garden hose. If you have wood or mahogany cabinets, we recommend sealing the wood to protect from the environment.
View a 6 person hot tub now thats super easy to clean!